Sixdime Data Logger
Sixdime Data loggers perform the unique role of data acquisition from different sources such as sensors and PLCs to generate information in real time which helps decision-making.
MELSS presents the Sixdime Atom IoT Data Logger for true real-time and data-driven monitoring and control of devices and equipment such as PLC, HMI, Motors, Valves, Energy Meters, Actuators and Relays. Compatible with networking protocols such as 4G/LTE, Wi-Fi, MODBUS and NB IoT, it helps in traceability, improvement of OEE and employee resource mapping.
The application generates various shift-wise and machine-wise productivity and analytics reports such as for loss, productivity and WIP monitoring which can be processed at the edge devices or on the cloud for real-time monitoring and decision-making.
Sixdime Data Logger application was developed with the aim of providing a comprehensive solution for acquisition and mapping of the following key operational indicators:
Traceability from Raw Materials (RM) to Finished Goods(FG)
Stage wise Waste Analysis – Input Vs Output Comparison
Machine Parameters
Employee resource mapping to work centres, monitoring and control
At the same time, due importance was given to the human perspective as well – Operator Information and Operator Availability.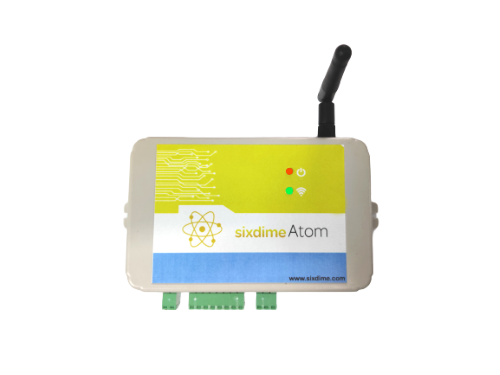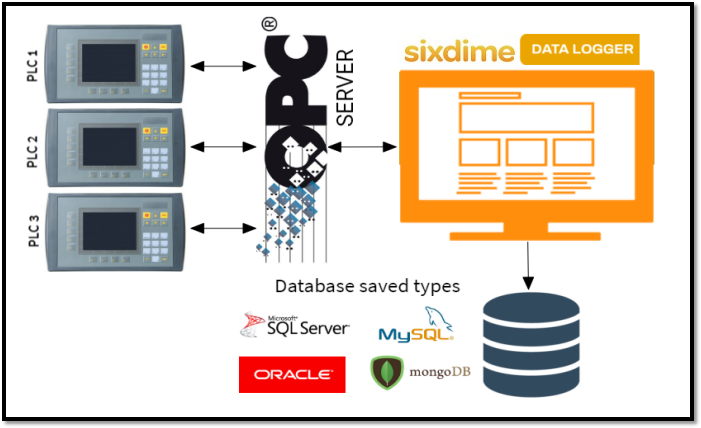 The Sixdime Data Logger, comprising a comprehensive Manufacturing Execution System (MES) and a Traceability Engine, covers every stage of the manufacturing process.
Barcode Printers are used to generate a barcode labels which would provide the unique identity to all RMs. Barcode scanners are used to read the barcode labels to facilitate tracking. RFID tags are also used for certain Incoming materials, and subsequently at each stage of the process.
RFID tags are read using RFID based Android Tablets and the data is transferred to PC for processing and establishing Traceability. At each stage waste analysis is performed and Output vs Input is compared. At each stage depending on the requirement, a HMI is provided to key in and monitor the set and process parameters respectively. Weighing system at certain stages is required to weigh the output material as part of the quality requirement.
The data acquired from hardware at each stage is interfaced with the PC which is equipped with the Traceability Engine to provide Tracking, Traceability functions and Productivity Reports & Analytics.
Benefits
Wastage / Loss Analysis/Productivity
Shift / Machine wise Productivity analysis
RM to Finished goods traceability
Real time Work In Progress (WIP) Monitoring
Time series data logging of machine parameters
Handheld tabs can be provided upon request for mobile monitoring
Tracking
Material Accountability
Key Features for Sixdime Data Logger:
Easy to setup and configure
Can send warnings by Email/SMS
Quick solution for real-time reporting
Supports Recording And Storage Of Data.
Playback Function To View Historical Data Based On Time/Event.
Data Monitoring / Quality Reports.
Alarm / Downtime Reports.
Equipment Preventive Maintenance Reports.
Can Sustain Robust Data Acquisition And Storage.
Why Sixdime Datalogger?
Easy-to-setup and configure
Provided as Cheaper Solution, as no one has to be paid to take the readings
Playback function to view historical data
Quick Solution for Real time Reporting
Readings are accurate because no human errors are introduced
Have capability to collect readings automatically using sensors
Can be used in hazardous environments even where it is difficult for human interference
Data is processed Faster
Supports Data to be stored on the Database for further analysis on any platform
Readings can be taken at exactly the right time
No missed readings because they are taken automatically
Scalable system where traceability and tracking can be implemented for example even at supplier end
What are Data Loggers?
Data loggers are electronic devices which automatically monitor and record environmental parameters over time, allowing conditions to be measured, documented, analysed and validated.
The data logger contains a sensor to receive the information and a computer chip to store it. The information stored in the data logger is then transferred to a computer for analysis.
What is an OPC Server & PLC?
OPC Server: The OPC (Open Platform Communication) is a software interface standard that allows windows programs to communicate with industrial hardware devices.
OPC is implemented in server/client pairs. The OPC server is a software program that converts the hardware communication protocol used by a PLC into the OPC protocol. The OPC client software is any program that needs to connect to the hardware, such as an HMI. The OPC client uses the OPC server to get data from or send commands to the hardware.
PLC: A PROGRAMMABLE LOGIC CONTROLLER (PLC) is an industrial computer control system that continuously monitors the state of input devices and makes decisions based upon a custom program to control the state of output devices.
Almost any production line, machine function, or process can be greatly enhanced using this type of control system. However, the biggest benefit in using a PLC is the ability to change and replicate the operation or process while collecting and communicating vital information.
Do you want to improve your manufacturing process?
We are an IT product and service provider with a focus on delivering highly scalable solutions for factories and industries. Reach out to us and find out know how we can make your manufacturing process more efficient.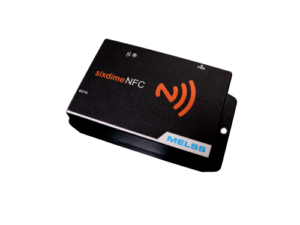 Sixdime NFC Reader
What is NFC:
IoT has opened avenues of innovation which was unheard of before. The industrial sector has grown by leaps and bounds.
Production lines are more controlled with increased volume, human errors are eliminated and each cycle takes less time to complete with improved safety levels, leading to a big jump in efficiency.
NFC (Near Field Communication) has added more security and flexibility to IoT in Industry (commonly known as IoT or Industry 4.0).
About Sixdime NFC Reader:
At MELSS, our technicians are creating cutting-edge solutions for the industry based on IoT and our NFC offerings are already transforming industries.
Digital transformation is the need of the hour for all industries. The Sixdime NFC reader helps organizations in its Industry 4.0 implementation in providing identification, validation and data capture solutions, on shop floors and assembly lines. The small and powerful device which can read Mifare and NTAG, can be easily set up to detect tags and IoT enable shop floor. The Wi-Fi and Ethernet enabled device can communicate to most software applications, PLCs and Industrial Controllers through the industry standard Modbus TCP protocol, giving quick and fast response.
Event management within industries is more controlled now with the application of our NFC solutions.
Many of our solutions in Robotics use NFC technology. Material Management and Asset Tracking have improved with better communication between the trolley and the NFC Reader.
Benefits of Sixdime NFC reader:
Data Sharing
Access Management
M2M Communication
Asset Tracking
Package Identification
Traceability
Mistake proofing /Poka – yoke
Material Movement.
Your Content Goes Here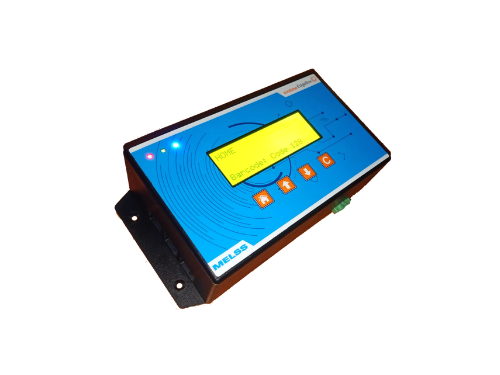 Sixdime EdgeBox
Edge devices are physical hardware located in site location. This device can be considered as part of the IoT, they have enough memory with good computing power to process the data in millisecond. This device helps to collect data that takes place at or near the remote location of either the user or the source of the data.
The IoT gateway can send data from the edge device to the cloud data center or to the edge system to be processed locally. It analyzes the data on the device at the edge of the network, to minimize the need for data in the remote data center.
About sixdime edge box:
Melss presents sixdime edge box, The edge box is a flexible IoT end point node enabling easy machine monitoring and signal exchange. Ideal to implement interlocks for Mistake Proofing, Traceability, Single Piece Flow and Overall Equipment Efficiency.
The integrated LCD display allows operators to instantly see status, error codes, operating information and get feedback on scanned identification tags.
This device features excellent front of screen performance for use with PLC's, Windows and Linux based PCS.
Edge box can be installed by connecting type C cable.
Benefits:
Increased operational efficiency with high-speed enhancement
It has better security.
Improved reliability and data management.
Bandwidth relief.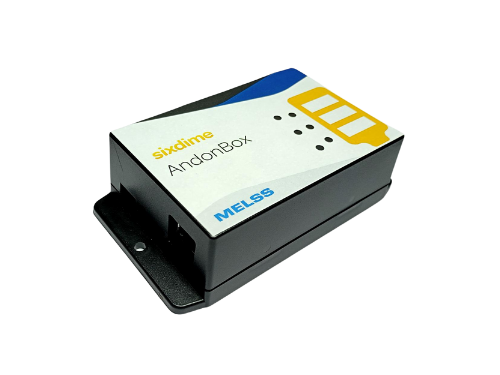 What is Andon System?
Andon is a visual and audible alert system which is installed in factories that quickly alerts the operator about the problem in the production line. The immediate alert addresses the problem on spot, so that the production line can return to normal operation.
About SixdimeAndon:
Melss presentsAutomatic Panel Bonding System IOT device is used for reading the data from particular tag of PLC and display it in Graphical User Interface. The tag contains various data like Required Production Quantity, Actual Production Quantity, Stiffener Feeding Actual Quantity and Panel Feeding Actual Quantity. Those data may vary according to the production happening or they may be fed by the user in PLC software. Here we are going to display that data in GUI using an IOT device named Andon Box.
Key Features:
Andon box is built using Raspberry pi 4.
USB type C for power supply.
Two USB ports and one ethernet port.
Two micro-HDMI ports to support display.
It has a separate micro-SD card slot for loading operating system and data storage.
Benefits of Andon System:
Reduce downtime
Cost reduction
Improves productivity
Prevent recurrence of issue
Abnormality defect is detected.
Sixdime Smart Utility Controller
Smart Utility Controller
What is Smart Utility Controller?
Smart Utility Controller provides us the way for controlling heavy loaded industrial machineries through basic Laptops and Smart phones remotely.
About Sixdime Smart Utility Controller
MELSS presents smart utility controller, to control entire stand-alone industrial equipment. The controller's primary operation includes scanning I/O, updating output and process control. After the beginning stage the controller will continuously read input and calculate the control parameters for machine process, the variables such as pressure, flow, temperature and level. The precise control improves quality and safety without the need of more man power. Any assembly line, machine function or process can be enhanced using this type of control system. It contains various features like ethernet connectivity, manual and scheduled appliance control etc.
Key Features
Easy to configure.
Schedule the operation of each line at specific time is enabled.
Twelve schedules can be made per day for each line.
Benefits
Remote Monitoring.
Reduce Man Power.
Safe and secured.
Easy to access.
Improve efficiencies.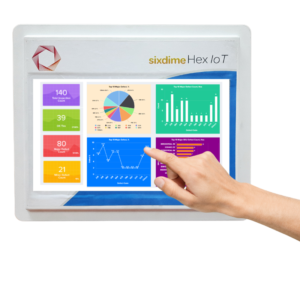 About Hex IoT
The Sixdime Hex IoT is a modern Industrial HMI offering capabilities to integrate equipment and plant information with the Enterprise IT. With running a full fledged operating system, the device enables Rich Media delivery along side mission critical industrial native and web applications.