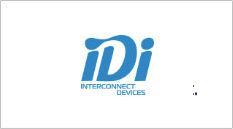 Interconnect Devices, Inc. (IDI) is a leading provider of spring contact probe based technologies, including connectors, advanced semiconductor test sockets, ATE interfaces and spring contact probes. IDI was acquired by Smiths in 2010.
IDI spring probe technology provides test engineers and product designers with the reliability that they demand. For over three decades, test engineers and product designers have turned to IDI for the most reliable interconnect designs.
IDI connectors are found in a variety of applications within the military, aerospace, medical, homeland security and industrial markets. Our compression mount probe-based connectors are renowned for their performance in high-reliability, fail-safe applications.
IDI is the originator of the spring contact probe test socket and continues to be in the forefront of innovation in the semiconductor test industry with our test sockets.
Our probe designers and builders are constantly discovering new ways to advance spring probe technology. The result is the world's most complete offering of spring contact probes, contacts and connectors – both off the shelf and custom solutions – and the most advanced test sockets.
Loaded Board Probes:
ICT probe
Lead free
Rotator
Loaded board high current probes
Wireless receptacles
Interface probes and pins
Specialty Probes:
Fine pitch probes
Coaxial probes
Wireless receptacles
Double ended probes
High current probes
Switch probes