Internet of Things (IoT)
MELSS offers design and development of Internet of Things (IoT) solutions for customers. These include hardware, firmware and software design.
Our team is experienced in working with latest architecture designs meeting and complying to Industrial Standards. We deliver solutions for on-premise and cloud based implementation.
Asset Tracking and Identification
MELSS offers solutions for real time asset tracking with RFID, Bluetooth Low Energy (BLE) and Barcode technologies.
Solutions offer real time location tracking of organizational assets in specific zones / areas of the factory, enabling reporting of utilization and quick identification of the assets.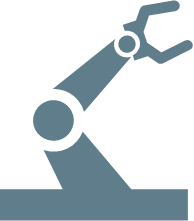 Robotics
We offer robotic automation solutions for assembly and manufacturing lines. This includes the conceptualization of the robot cell, selection of the robot and delivery of robot along with necessary tools, jigs and fixtures to meet the end requirements.
Typical applications include Pick and Place, Palletising and Machine Tending.