Functional Tester-MELSS 9100
MELSS 9100 Indigenous Functional Tester
MELSS 9100 Functional Tester is a fully integrated Indigenous functional test system for factory, depot, and intermediate test applications. It's the "go to" tester for users needing a mix of digital, analog, mixed-signal, and bus test capabilities across a wide range of products—from legacy boards to advanced systems.
The MELSS 9100 is a cost-effective test solution, a field-proven defense and aerospace standard for high-performance functional test. MELSS has indigenized this tester using Technology from Teradyne, USA, whose Spectrum 9100 tester has hundreds of installations worldwide.
The MELSS 9100 Tester combines advanced functionality, switching, software, self- test and calibration capabilities to provide users with the best hardware/software platform possible. It incorporates industry standards that support multiple Application Development Environments (ADEs), a host of TPS development processes, and a multitude of adapters. Running under the Windows operating system it uses standard test system bus protocols including GPIB, LXI, PXI, and VXI and employs a variety of programming languages and ADEs, as well as specialized, in-house programming tools.
Major Features of the tester
Highest performance functional tester for analog, digital, mixed-signal and serial bus testing
Performance and flexibility to test products all the way from board level to completed assembly level
Future ready, open standards-compliant platform, adaptable to changing requirements
Proven compatibility maintains TPS investment
Proven highly effective in replacing Legacy ATE's
Multiple parallel digital functional solutions supporting speeds up to 50 MHz (100 MHz interleaved)
Concurrent serial bus test supports MIL- STD-1553, RS-232, RS-422, RS-485, ARINC 429 and many more
Cost-effective, reliable system accommodates modular expansion
Supports a multitude of adapters, software products and TPS development tools in the TestStudio™- based ATE operating environment
Advantages of the tester
Comprehensive digital, analog, mixed-signal, and bus test capability – MELSS 9100 is the perfect choice of defense and aerospace product manufacturers and depots requiring a powerful yet flexible functional test system to verify, and/or diagnose a wide variety of future, current, and legacy products.
A flexible, integrated test system – MELSS 9100 packs industry-leading test functionality, switching, software, self-test and calibration capabilities in a single integrated system that includes power distribution and thermal management.
Open architecture – MELSS 9100 open architecture incorporates industry standards—PXI, LXI, VXI, GPIB, IVI, Windows, ATML, safety, EMI—together with expandable size and power, providing straightforward modular expansion as test needs evolve.
Faster TPS implementation – MELSS 9100's proven PC-based software development suite reduces TPS implementation time and cost while increasing test coverage. The proven PC-based software development tools reduce test implementation time and effort.
Applications
MELSS 9100 testers can be used in places where defense and aerospace products are tested. Applications include:
High-performance functional test for boards, assemblies, and systems used in defense/aerospace products such as avionics, missiles, and vehicles.
Applications requiring analog, digital, mixed-signal, and/or bus test including performance digital test, parallel test, real-time bus test.
Performs in virtually every test environment including production test, depot repair of new and legacy products, including legacy rehosting.
System Configuration and instrumentation Options
The base configuration of MELSS 9100 is a single-frame, 19-inch system that accommodates VXI and PXI chassis for housing digital and analog VXI/PXI instrumentation, GPIB and LXI instrumentation and user power. The system comes complete with power distribution and thermal management. The system's PC is host to Test Studio, a feature-rich web-based ATE operating environment.
Optional instrumentation is available for constructing a customized test environment, including Di-Series of Digital Test Instruments with fault dictionary and guided probe diagnostics. Other options include the Bi4-Series of Synthetic Serial Bus Test Instruments and the highly parallel Ai7- Series of Analog Test Instruments. A brief on the instrumentation is given below.
Di-Series Digital Test Instruments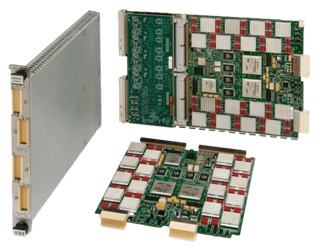 With Industry-standard architecture and superior performance, the Di-Series instruments are comprised of one optional Utility Card and up to 12 Channel Cards. The Di Utility Board supplies guided probe capability, utility bits and system resources to provide compatibility with previous generation digital instruments. Each Di Channel Card can operate as an independent instrument, or when populated in contiguous backplane slots, can act as a single instrument providing upto 768 channels of synchronous parallel digital test capability. If a full 768 channels are not needed today, smaller configurations can be ordered, and additional channels can be added in the field while maintaining TPS compatibility.
The Di's flexible design is ideally suited for handling the asynchronous and differential signals often required to properly test many LRUs. Voltage ranges from -30 volts to +30 volts, and data and clock rates to 100 MHz using channel pairing provide digital test capability to meet the most demanding voltage and frequency requirements.
Off-line TPS development can be done using industry-standard LASAR™. Integration with LASAR simulation software enables off-line test development with minimal time required for test program integration.
Ai7-Series Analog Test Instruments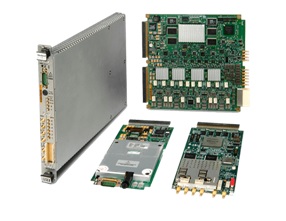 Ai7-Series of VXI Analog Test Instruments provide superior performance with highly parallel test capability.
Ai7-Series of analog test instruments are the first mixed-signal subsystems on a card, designed specifically to address the requirement for real-time signal simulation and functional test.
The single Slot Ai-760 family of analog test instruments starts with 8 MFA (Multi- Function Analog) channels, with each MFA channel offering 200 MS/s Timer Couter, 200 MS/s 14-bit Arbitary waveform generator and 50 MS/s 12-bit digitizer functionality. The configuration can be enhanced by adding additional MFA Channels, a 6.5 digit digital multimeter (DMM) and a 1 GS/s digital oscilloscope (DSO).
The Ai-710 architecture provides flexible inter- channel triggering to handle the most complex parallel analog applications.
Bi4-Series Bus Test Instruments
Bi4-Series of Serial Bus Test Instruments provide the most optimum Tester-Per-Pin Bus Test Architecture.
With flexible Serial Bus Test Capability, the Bi4-Series instrument is the industry's first instrument designed specifically for real-time bus test and emulation. The Bi4-Series supports the most common serial bus standards in one instrument slot.
It features latest bus testing technology to provide the ultimate in flexibility for both Board and Box level testing. Using the Bi4-Series architecture ensures complete communications bus access without the need to reconfigure the test system for each application.
Each Bi4 has four independent bus modules that support MIL-STD-1553, MIL-STD-1773, TIA/EIA-RS-232, TIA-EIA-RS-422, TIA- EIA-RS-485, ARINC 429 and more.
With an innovative load-and-forget programming environment, native support for popular buses and flexibility to emulate custom buses or variations of standard buses, the 2 and 4 module Bi4-Series instruments provide the option to emulate any bus at any time without need for external electronics.
Spectrum Cross-Point Matrix
The optional cross-point matrix is a dedicated high-bandwidth subsystem that can be configured with switch modules and is located in a dedicated chassis for efficient resource distribution. Users can configure the matrix to match immediate needs and reconfigure it as requirements change, while maintaining TPS compatibility. The matrix provides full cross-point instrument scanning.
The Spectrum Cross-Point Matrix may be configured with up to 13 modules, combining as many instrument port or matrix channel modules as required.
Computer System/Interfaces
Industrial rack mount, or personal workstation running Windows 10 Professional
Single or dual flat panel displays
Choice of integrated or stand-alone PC
Ethernet interface
GPIB interface
MXI-2 interface
Infrastructure
Single, or multiple PDUs in 10 kVA, 20 kVA, or 30 kVA sizes
Expandable 1, 2, 3 or more frames
High-performance 5700-Watt VXI chassis
Choice of single-, double- or triple-tier VPC 90 Series receiver
Choice of single-tier or double-tier spring probe receiver