Warehouse Management Solutions
Warehouse Management Solutions
MELSS works with businesses to develop custom-made solutions for stores and warehouse management. This includes:
Handling of FIFO
Location and Stock management
Stock Take and Material issue using Mobile Handheld devices
Barcode based solution to handle more than 10000 parts
One implementation includes delivering a solution to identify objects and their location in the warehouse.
The solution involved a web-based application that shows a visual map of the warehouse with various Bays. All materials in the warehouse would have pallet-identifying numbers.
Every time a new material is carried in to the warehouse, its location is fed into a Handheld Device which wirelessly updates the Database. This essentially, allows the user to view the utilization of warehouse space as well as gives him/her the ability to view the location of every item in the warehouse.
The solution can also be implemented using barcode or RFID technologies, which MELSS has considerable experience working with.
Technology Used:
Datalog Devices
Microsoft Windows CE Based Handheld Devices
Web service applications for wireless communication and Visual mapping on screen
Warehouse Dispatch:
Goods ready to be shipped to a store are taken from the central warehouse to dispatch area. As they pass through the exit gate, an RFID reader reads the codes on the pallets and passes the data on the system. The goods then have the status of being on route to their destination.
A cloud based GPS system can give a real time tracking information of on route to their destination.
Store Stock: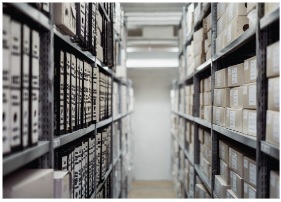 RFID helps match arriving goods at orders. When a truck arrives at a store, its pallets are once again identified by an RFID reader. The goods are then registered as being in store stock room. Similar way it reads the goods that are being taken out from the store stock to the main store for sales.
Inventory Shrinkage (Shrink) Reduction
Track retail items between point of manufacturer or purchase from supplier and point of sale.
Real-time notification of security when RFID tagged items leave area without payment
Competitive advantage – saving money on theft allows to offer product at lower prices
RFID Smart Labeling
Monitor unattended inventory
Automatic item identification on mixed pallets
"Smart Shelf" systems – designed to provide real time tracking and locating of tagged items on shelves
Shipping and Receiving applications
Stock Taking
Real-time notification of out-of –stock items
Improvement of product replenishment
Retention of consumers who may turn to competitors if inventory item is out-of-stock
Automated charting and tracking for improved product forecasting
with ability to scan multiple items and pay for them all at once
Overhead Reduction
Track product shipping and receiving from point-to-point automatically versus manual tracking to save time and labor cost
Know how many units of inventory or on-site via automated RFID system versus manual process, saving labor and time cost
Efficiency in error reduction reduces manual labor cost.