Teradyne Semiconductor Testing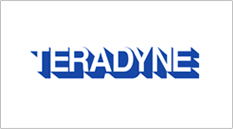 Teradyne's semiconductor test products are designed to meet the needs of developers and manufacturers of stand-alone integrated circuits, system on a chip and system in package devices. The hardware and software development teams create unique modular tester architectures, expand site count and lower the cost-of-test for industry-leading silicon manufacturers and OSATs around the world.
Digital/Mixed Signal
Teradyne's UltraFLEX and J750 product families provide the power and precision needed as well as the test speed and coverage to optimally serve the broad range of testing needs for the digital/mixed signal market. From digital devices, which include the most complex and high-value semiconductors, to mixed-signal SoC devices at the core of mobile devices and game consoles—Teradyne is the tester of choice in the market.
Wireless
Teradyne's industry-leading wireless testers deliver high-throughput and get the newest technologies from the lab to high-volume manufacturing, quickly and cost-effectively. Our test solutions – including our line of LitePoint testers – are designed for a wide range of wireless technologies, from semiconductor wafers to final product test, and deploy innovative techniques for calibrating and verifying wireless devices.
Linear, Power and Automotive
Analog and power electronics require test solutions that are flexible and powerful enough to cover the range of power management systems they control—from mobile devices to electric vehicles. Teradyne's Eagle Test and FLEX platforms deliver high-performance and cost-efficient test solutions for the linear, power and automotive markets.
Semiconductor Testing offered by Teradyne
Memory
Memory is divided into two main camps: DRAM and Flash. DRAM is used in computing devices and graphics adaptors, while Flash is used as a storage media in mobile devices and solid-state drive devices. Teradyne's Magnum test systems provide complete coverage for testing of all memory devices with the highest parallelism and lowest cost of test.
System Level Test
Teradyne's Titan platform delivers low cost of test, fast time to market and the ability to ramp to ultra-high device volume. For years, it has been a proven solution for the mobile application processor market. Teradyne is at the forefront of change and growth in the System Level Test industry and will continue innovating to bring improved cost and quality benefits to the ADAS, Infotainment, AI and data server, GPU and tablet markets.