Of the many factors that carry forward the brand value in the F&B industry, perhaps the most impactful relates to the food menu and the service provided.
Applications of robotics in F&B
The use of robotics in F&B industry has been necessitated due to the perennial labour shortages prevalent in the Industry. In addition the demand for food has increased manifold in recent times with the rise in e-commerce platforms for food ordering and cloud kitchens putting more pressure on the F&B industry to deliver quality and efficiency.
The major activities that can be, or are being, managed using robotics in the F&B industry are:
Preparing a wider variety of food in a shorter time without compromising on quality
Cleaning of food handling surfaces
These processes have been made possible with the advent of cobots, which are robots coexisting with humans in the same workspace. Cobots occupy less floorspace than robots and have the necessary safety mechanism in place to coexist with humans.
Here are a few reasons to employ collaborative robots (cobots) in your F&B factory and outlet
Improved food safety and quality: Cobots can be programmed to handle delicate food items with precision, ensuring consistent quality and reducing the risk of contamination. They can also be equipped with vision systems and sensors to detect defects, contaminants, or foreign objects in food products, enhancing food safety standards. Signature dishes can be created more often by programming the recipes. Customers experience uniform taste in the same dish time after time
Increased productivity and efficiency: Cobots excel at repetitive and monotonous tasks, such as packaging, sorting, and assembly. By taking over these mundane tasks, they free up human workers to focus on more skilled and complex activities, thereby increasing overall productivity in F&B operations. Even cutting vegetables can be automated – this is a time consuming but low value-add activity. A single cook can now cook many dishes at a time by operating cobots simultaneously
However, there are also some challenges in deploying collaborative robots (cobots) in an F&B setting
Not only do the cobots in F&B need to handle hot oil in smoky environments as well as sub-zero temperatures, they need to be operated on surfaces where food or condensation accumulates and should be certified for use in food and splash zones.
Needing to be clean and hygienic, they must be easily maintainable with no gaps in the equipment, and must be painted with non-hazardous paint. They must be able to withstand harsh environmental conditions such as high temperature and humidity, and must generate low levels of noise. For ease and effectiveness of operation in preparing dishes, they need to be easily programmable without the need for technical knowledge.
Doosan E-series Cobot for the Food and Beverage Industry with IP67 rating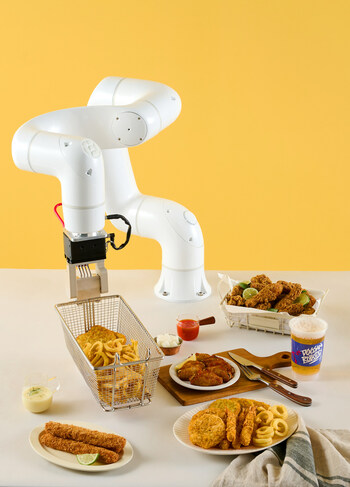 MELSS brings you the E-Series Collaborative robots (Cobots) from Doosan which have been exclusively developed for the F&B industry and the A-Series. This range of cobots sports many advanced features such as: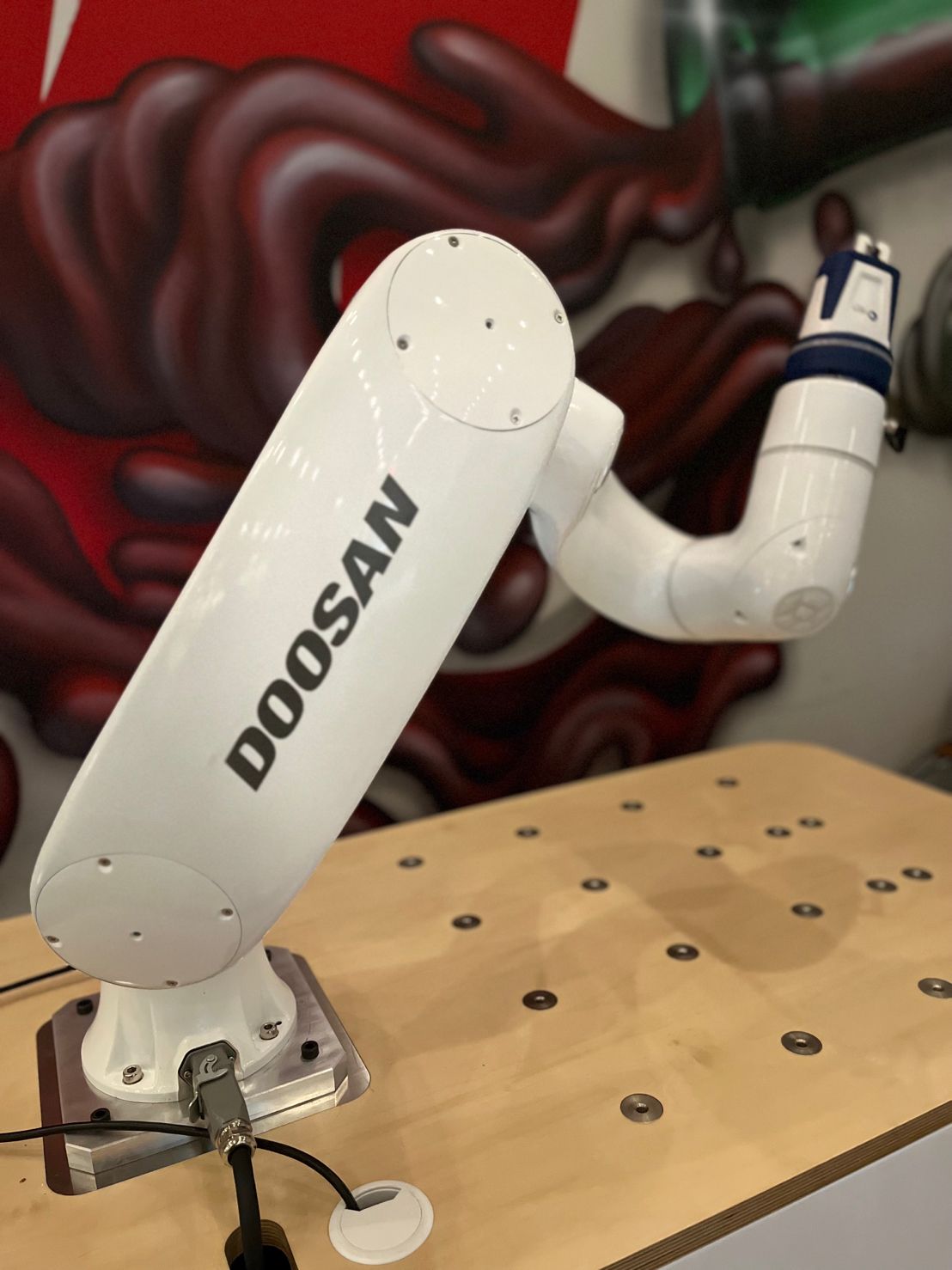 NSF/ANSI 169 Food Zone & KCs-CE-NRTL certified for use on surfaces where food or condensation gathers and avoiding cross-contamination
Sealed gaps
Easier to maintain Phillips screw
Non-hazardous NSF certified paints
Slim and streamlined design
Cable holders for sanitary maintenance of environment
Maximum operating temperature 45oC
IP67 rating for 90% RH humid environments
Below 60dBA commercial area noise standard
Full backup and restore, easy programming and remote support
PLe Cat4 highest safety certification
6 zone and 5 geometry shapes setting for full protection of operator
Power and Force Limiting (PFL) to keep hazards below threshold value
A-Series and E-Series cobots
A range of compatible food grade grippers
The IP67 advantage – The E-Series cobots are dust-proof and offer good protection from water. The 6 in IP67 signifies total protection from dust ingress and the 7 indicates protection from immersion between depths of 15 centimetres and 1 metre.
At MELSS, we have been helping our clients across various industries with automation solutions for the last 35 years. These include Collaborative robots, Industry 4.0, Telecom and Photonics, Assembly and Test, and Automated Test Equipment.