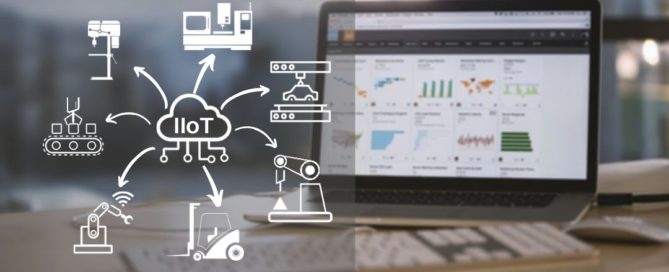 The Industrial Internet of Things (IIoT) refers to the integration of smart machines, advanced analytics, and the workforce of an enterprise. IIoT facilitates a multitude of industrial applications connected by communication technologies that enable systems to monitor, analyse, exchange, and deliver valuable insights. These insights help businesses make smarter and quicker decisions.
The rise of IIoT marks a transformative shift in manufacturing. With the capability to facilitate dynamic and constantly-connected modes of operations and monitoring in the place of traditionally linear ones, manufacturing concerns are no longer bogged down by limitations of age-old practices. When IoT capabilities are successfully implemented in Industrial and Manufacturing workspaces, Industrial IoT comes to life. In terms of technologies, IIoT combines machine learning, big data, sensor data, M2M communication, and automation.
IIoT enables an enterprise to be thoroughly connected across levels, and completely transparent across processes, by merging data and operational departments. This directly contributes to improved visibility, enhanced operational efficiency, improved productivity, and the simplification of complex industrial processes. IIoT is more than an operational tool; it is a transformative strategy that helps manufacturing concerns improve their quality, safety, and productivity.
The Main Advantages of Industrial IoT
IIoT carries with it the capability to completely transform the nature of operations in a manufacturing concern. Here are its key advantages:
Predictive and continual maintenance

Real-time monitoring 

Optimisation of assets and resources

Remote diagnosis
What are the salient features of a comprehensive solution for IIoT?
Seamless, hassle-free connectivity and data acquisition

Factory-wide performance insights

Constant alerts – smart alerts and insights

Intuitive data visualisation, collection, and reporting

Continual condition monitoring

Machine learning capabilities and data analytics
IIoT Empowers the Manufacturing Sector with Vital Insights
IIoT essentially builds upon automation, helping manufacturers leverage their plant floor data from different sources for real-time insights. Effective analytics techniques facilitated through IIoT help manufacturers avoid quality issues and reduce downtime.  
Analytics helps understand processes and equipment conditions more accurately, but in order to be as efficient as possible, a complete set of data is required. This is achieved through the deployment of sensors on measurements that may not have been previously monitored. Pervasive sensing applications, facilitated by wireless sensors and networks, help overcome problems of high installation costs and disruptions. In the process, fresh insightful data is gained in a quick and cost-effective manner.
Automation technology empowers workers and helps improve productivity. IIoT technologies like smart devices, motion control, machine control, and analytics packages, provide a solid base to solve unique production challenges quickly, effectively and as a result, help in gaining higher returns on investment. 
MELSS delivers a comprehensive IIoT solution to manufacturing concerns across the board. We empower them with the tools and technologies to fully embrace the Industry 4.0 revolution. Click here to learn more about what we have to offer with IIot – our solution addresses a variety of needs across manufacturing concerns. 
To know more about what we do, please visit our website.