Your production line using the right dispenser for fluids?
In mass production lines, a proper fluid dispensing often leads to improved productivity, reduced wastage and increased profits. Selecting the right dispenser therefore becomes important.
Depending on your line of business and the types of materials used, you have plenty of options to choose from. Here is a guide to help you identify the factors you need to consider while choosing the right dispensing system for your needs.
Dispensers – by type of administering
Manual
These dispensers are affordable and convenient to use. They are used in general industry applications where repeatability is not required. Low on maintenance needs, they are a popular industry choice as they also do not need electricity to operate.
Foot Valve     
Mounted on the floor, these use less desk space, and offer a higher degree of user control. Comprising a pressure regulator and a pressure gauge, the foot pedal is used to control the output and shot size. They are costlier than manual dispensers.
Programmable
Intuitive, efficient, and user-friendly, they can be programmed for various operating modes and dispensing routines.
Robotic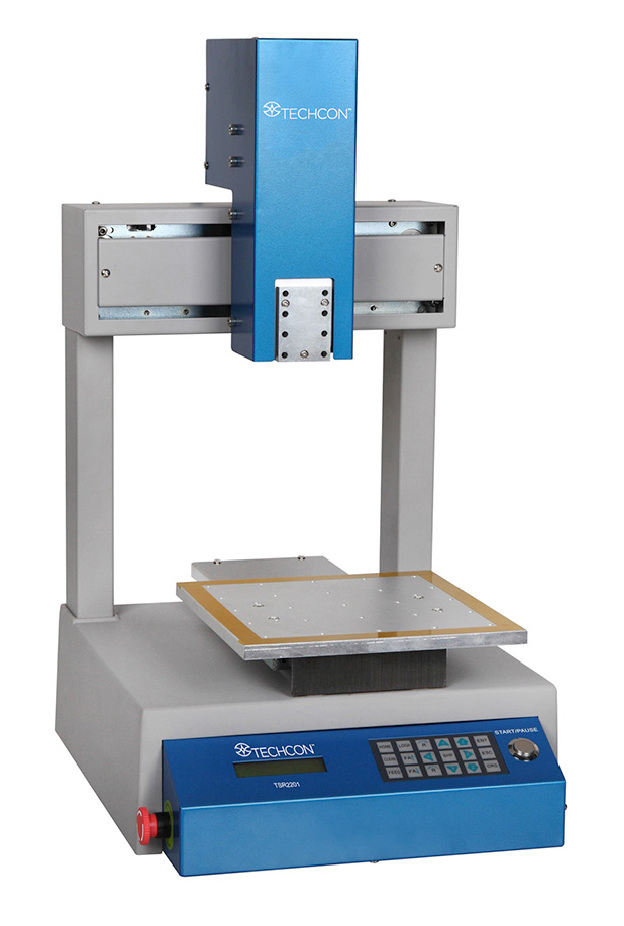 Due to the frequent mistakes and reduced productivity with injury-prone manual dispensing, robots are here to help – moulding easily in the Industrial Internet of Things (IIoT), providing a lot of data on the performance of the dispensing machines across locations for better business decisions. They can communicate with one another to handle complex manual tasks and also have machine vision for high precision dispensing.
Dispensing equipment types
Dispensing fluids has come a long way from the manual dispensing used earlier to the various types of equipment using different dispensing techniques today.
Manual Syringe System 
This includes a plunger with piston and a syringe filled with fluid. This method is suitable for low volume applications where product yields below 80% are acceptable, such as administering injections or collecting blood samples for testing.
 Time/Pressure Dispensing (TPD)
This utilises air pressure coupled with a control timing circuit to increase product throughput. This provides a balance between cost and performance and is the most commonly used method. It uses the TPD valve which includes a pneumatic valve, a controller and a pressure reservoir.
Types of TPD valves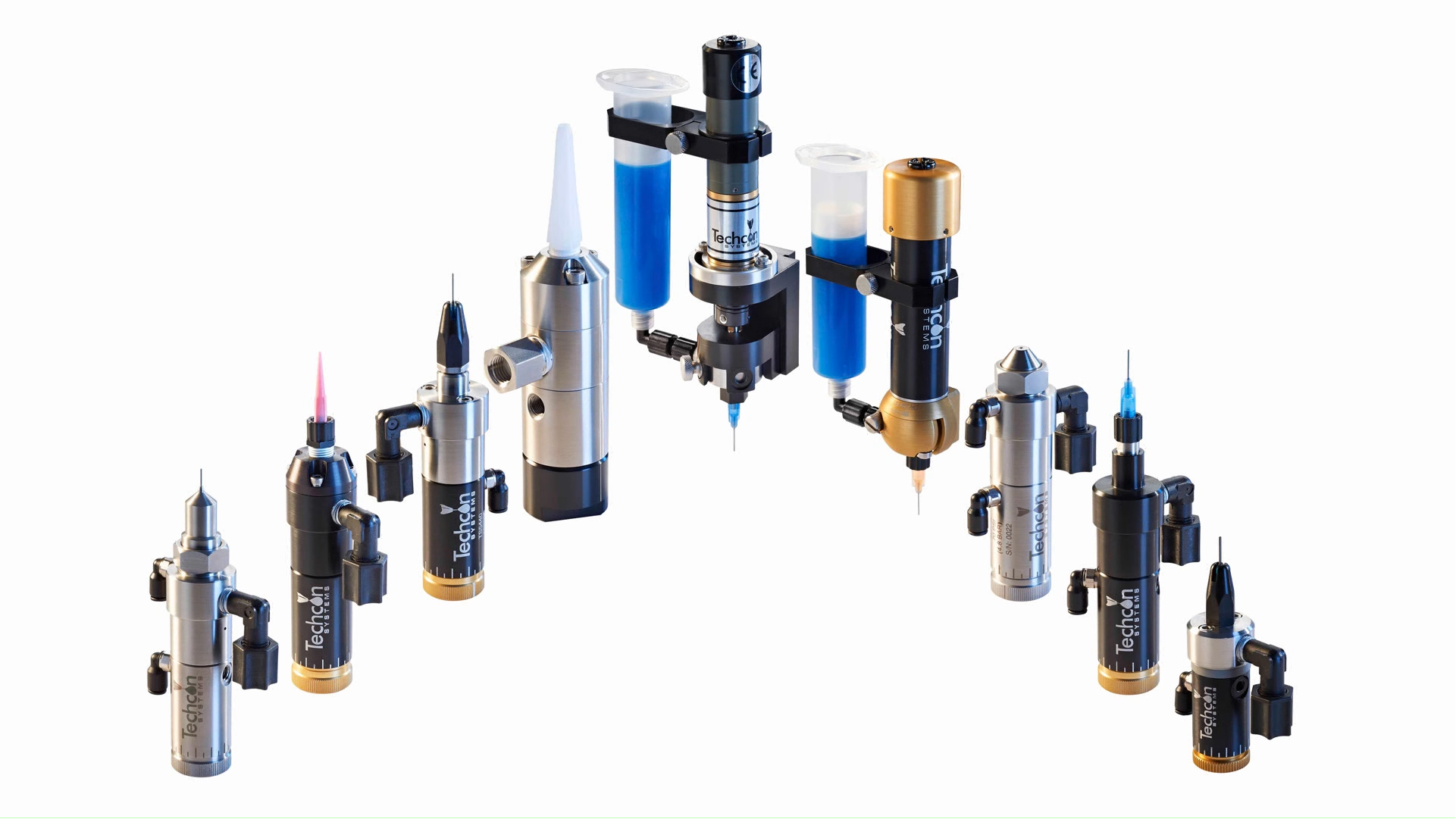 Pinch Tube Valve
This is used to dispense small dots or continuous beads of low viscosity fluid. Since the only part of the valve that makes contact with the fluid is the disposable pinch tube assembly, it is perfectly suited for applications that use quick curing adhesives or highly aggressive fluids that might damage the valve body.
Diaphragm Valve
More resilient than the Pinch Tube Valve, it lasts for millions of cycles. The diaphragm is made of Ultra High Molecular Weight Polyethylene (UHMWPE) making it the best choice to dispense moisture sensitive and low to medium viscosity fluids such as moisture sensitive adhesives for general bonding applications and UV cured adhesives in the medical device industry.
Needle Valve
This is ideal for applications that require micro dot size (less than 0.002cc), such as UV adhesive used in hearing aids. Except moisture sensitive fluids and quick curing adhesives, fluids such as UV adhesives, solvents, inks, oils and primers are recommended.
Spool Valve
To dispense high viscosity fluids in high volume applications heavy-duty spool valves are used. Fluids such as silicones, greases and sealants are dispensed using this type of valve.
Choosing the right dispenser from the right partner
A reliable partner is required who not only manufactures a wide range of dispensers, but can also advise you on the right dispensing solution for your requirement after understanding your need which depends on various factors such as:
Access to Electricity
If you plan to use the dispenser in a remote or rural location without access to electricity, then manual dispensing is best suited for you. Not only does it cost less, but it also does not need electricity.
Availability of Space
If available space in your facility is less, then Foot Valve should be your choice as it requires less desk space. What's more, it is more accurate and efficient than manual dispensing.
Type of Application
By controlling the settings in programmable dispensers, users can dispense the fluid with utmost precision. Also, these dispensers can handle both high and low viscosity fluids. Manual dispensers are unsuited for high viscosity fluids.
Budget
After considering all factors, you may decide based on your budgetary constraints.
MELSS brings you the widest range of fluid dispensers from the leaders – Techcon Systems who are credited with many fluid dispensing innovations, such as:
Rotary Displacement Dispensing which can not only handle viscosity fluctuations, but can also handle higher viscosities of 30,000cps or higher, handling solder pastes, surface mount adhesives, silver filled epoxies and encapsulant materials used in the electronics industry.
Progressive Cavity Pump which is impervious to changes in viscosity or any other variable that can impact dispense volume, resulting in an accuracy of 99% or higher.
For more information: https://www.melss.com/assembly-test/fluid-dispensing/