Solder Paste and solder Wire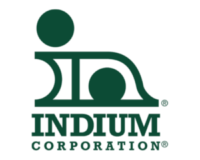 Solder Preforms
Solder Preforms are used in a variety of applications that require precise amounts of solder.
Solder Preforms come in standard shapes such as squares, rectangles, washers and discs. Typical sizes range from .010″ (.254mm) up to 2″ (50.8mm). Smaller and larger sizes, as well as custom shapes, are also available. Dimensions can be held to tight tolerances to assure volume accuracy.
Solder Ribbon
High quality Solder Ribbon and Foil manufactured by Indium Corporation is available in many standard alloys and sizes. Material can also be custom made to your unique material and dimensional requirements.
Solder Ribbon is supplied in continuous lengths and is packaged on spools. Solder Foil is supplied in sheet form.
Specialty Solder Spheres
Indium Corporation is a supplier of specialty solder and brazing spheres in small to mid-size volumes. We offer a wide variety of alloys and sizes from around 0.004" (100 microns) to 0.078" (1.98mm), depending on the alloy. Melting points range from below 90°C to over 700°C.
We supply many of the leading suppliers of medical, transportation and automotive, military and aerospace, high-end mobile devices, and computing equipment. Our customers come to us because we can supply consistently high-quality materials for precision assembly challenges.
Solder Research Kits
Indium Corporation understands the challenges of developing products for today's marketplace and the need to test options quickly and efficiently. One of the key hurdles in product development is being able to test a variety of options at a reasonable cost. Indium Corporation Solder Research Kits offer a range of options so you can customize your kit to meet your requirements.
In addition, we have the technical expertise to help you select just the right materials for your kit.
Heat-Spring®
Many applications call for a TIM (thermal interface material) that can easily be placed on a chip, on a lid, or, perhaps, just against a heat source and a cooling solution contact plate. We developed a metal TIM which works as a compressible Interface Solution for such an application. Our pressure range is 35 psi to 100+ psi.
Package-on-Package Flux
Package-on-Package (PoP) assembly is most commonly carried out by printing solder paste onto the substrate and placing the logic chip into the paste. The memory package is then either dipped into a specially-designed PoP flux or PoP solder paste, then and placed on top of the logic chip. The whole assembly is then reflowed. No-clean processes are used. PoP flux is typically preferred over PoP solder paste as it is easier to set-up and control the process. PoP solder paste is primarily used when there is component warpage and the solder paste bridges the gap cause by warping boards or substrates. Colored versions of PoP flux are available – upon request – for help with automated inspection of the flux or even visual inspection for process optimization. The colored versions will aid in ensuring there is PoP flux present on the dipped components.
Click here to learn more about our Package-on-Package Paste options.
Flux Pens
Indium Corporation's flux pens utilize a spring-loaded applicator tip to deliver a controlled amount of flux to the work surface. The user friendly pin-point applicator is ideal for touch-up and light assembly work. To apply, simply depress the tip of the flux pen against the work area to start the flow of the applicator tip.
Indium Corporation flux pens come in Pb-free and SnPb, no-clean and water wash
Soldering & Industrial Flux
Indium Corporation manufactures a broad range of fluxes for soldering and industrial use. These include:
Industrial Flux
Liquid Soldering Fluxes
Liquid Tabbing Flux
Package On Package Flux
Features & Benefits
Indium Corporation is a developer, manufacturer, and global supplier of: specialty solders (including solder paste, performs, spheres, columns, wire, tubing, ribbon, and foil), fluxes, electrically-conductive adhesives, inorganic compounds (including indium oxide, indium-tin oxide, indium hydroxide, and indium chloride), fusible alloys, indium-containing fabrications of all types, and pure indium (from commercial-grade through high-purity).
TACFlux®
Indium Corporation manufactures a complete line of TACFlux® which includes no-clean, water-wash, and RMA-based fluxes. Its many uses include: rework and repair of various electronics assemblies and components, SMT component attach (including BGAs and flip-chips), BGA ball-attach, preform soldering, and virtually any application where a flux is required. Cycle times are not critical as TACFlux® may sit for hours with no reflow degradation.
TACFlux® 020B-RC is the newest addition to our popular TACFlux® product line. TACFlux® 020B-RD is a no-clean flux formulated for both SnPb and Pb-free soldering. It is halogen-free and passes SIR in the unreflowed state, which is ideal for rework applications where the flux may not be heated properly.
Wave Flux
Indium Corporation offers a full line of competitive, state-of-the-art wave solder fluxes for electronics assembly. We are the first company to introduce halogen-free, Pb-free wave fluxes that perform as well as the more established halogen-containing tin-lead wave fluxes.
All wave solder fluxes are available in 55-gallon (200 liter), 5-gallon, and 1-gallon containers.
Wave fluxes include:
Alcohol-based
VOC-free
Water-wash
Rosin-based